Things to see and do in the Walled City – October 2018
1. See hit musical "Evita" in The Millennium Forum (9th – 13th October)
Bill Kenwright's production of Tim Rice & Andrew Lloyd Webber's Story of Eva Peron takes to the stage in Millennium Forum Theatre & Conference Centre following it's run of performances in London. The show follows the life of Eva from humble beginnings to iconic status as the wife of Former Argentine Dictator Juan PeronTickets now available by booking online hereOur Gown Restaurant is just a short walk from the Millennium Forum and is the ideal space for a pre-show cocktail or dinner – our Gown Restaurant is open from 5pm daily, our dinner menu can be viewed online here, and reservations can be made online here or by calling (028)71140300

2. View the city's fashion talent at Fashion Fest
The Fashion Designer Show returns on Saturday 13th October in Walled City's most iconic landmark building, The Guildhall. This event will showcase the best in local talent and will be hosted by celebrity stylist & fashion designer Kate Halfpenny who will be closing the show with her brand showcase "Halfpenny London". The Showcase features live entertainment by Irish Singer-Songwriter Emma Wallace whose music can be heard here To find out more about the event and to book tickets click here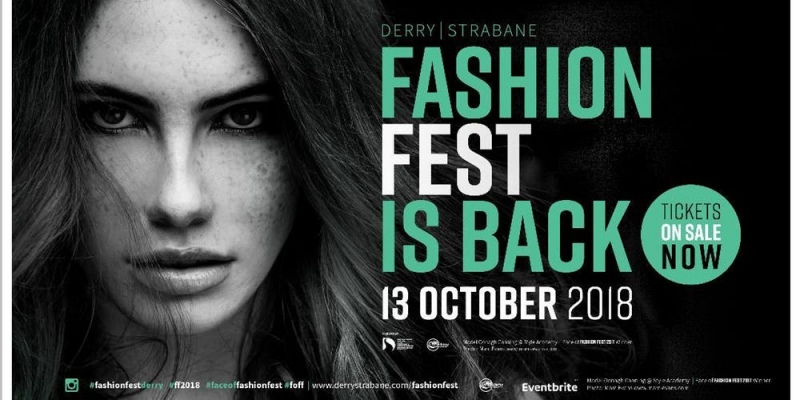 3. Enjoy a relaxing evening in The Wig Lounge
Every Friday & Saturday in the Wig Lounge we host live musical performances from some of the city's most talented performers.
No entrance fee is charged to the Wig Bar & Lounge and we have a wide range of locally produced craft beers and spirits such as Northbound Beer, The Quiet Man Whiskey, Hunch Poitin & Muff Liquor.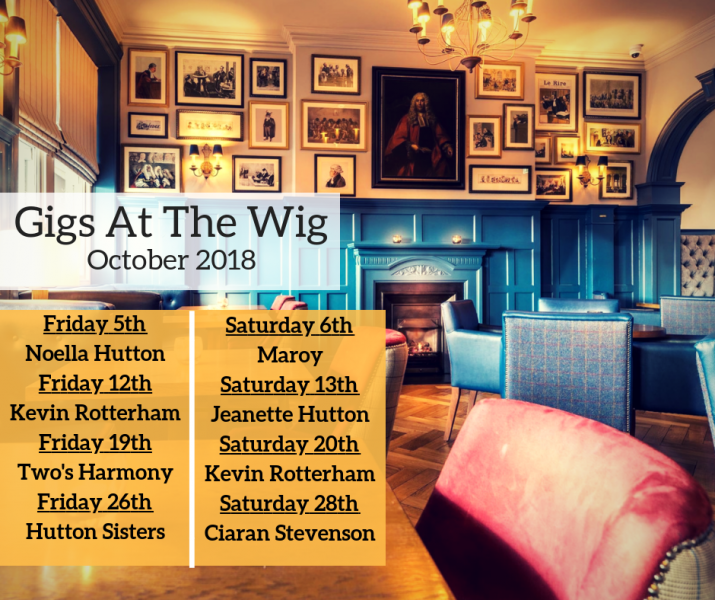 4. City of Derry Choral Festival
The International Choral Festival returns this year from 24th – 28th October Created as a joyous celebration of choral music-making, the festival provides opportunities for competitive and non-competitive participation for singers across a wide range of styles, ensembles and ages.The Festival also features the The Every Voice Fringe Festival, in partnership with Derry choir Allegri, which will see musical performances take place in a number of venues across the city - to view the featured venues click here
5. Halloween Festivities
No other city celebrates Halloween quite like Derry~Londonderry!
Not just taking place on 31st October, the festival includes 8 days of events including the main event of our world-famous parade and firework display. Highlights of the festivals ghoulish events and frightful fun for all the family include
Awakening the Walls, Haunted Harvest Market, Museum of the Moon, Little Horrors shows and entertainment, Monster Fun Fair, Samhain Sessions, Tours & Trails, Carnival Parade, Fireworks plus lots more.
For full schedule details visit Derry Halloween's Website here.
Our Hotel's location in the heart of the Cathedral Quarter, within the historic walled city provides an ideal base for exploring the festivities and to have a break and enjoy a relaxing drink or bite to eat whilst moving around the city.
To check for accommodation availability or to make a dining reservation contact our team on (028)71140300