TripAdvisor Travellers Choice Award 2020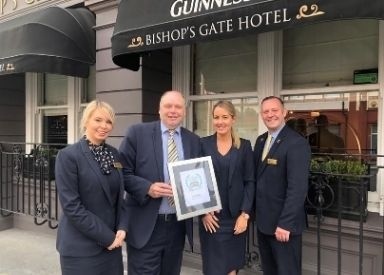 The exquisite Grade B1 listed Bishop's Gate Hotel, which is perfectly positioned within the historic city walls in the heart of Derry City's Cathedral Quarter is living up to its reputation of being the best of the best, with a TripAdvisor Traveller's Choice Award.
Commenting on this latest accolade, which is judged by industry experts, Managing Director Ciaran O'Neill from Bishop's Gate Hotel, said: "We're absolutely thrilled to feature in the annual TripAdvisor Travellers' Choice Awards for 2020. With over 40,000 hotel properties listed on TripAdvisor across the UK, to be named in the top ten again is simply phenomenal. The Travellers' Choice 2020 Awards analysed traveller reviews and rating pre-pandemic to determine winners in the various categories. Bishop's Gate Hotel was ranked sixth in the 'Top 25 Hotels – United Kingdom and Channel Islands' category, which is a fantastic achievement. This award will provide a real boost to the international image of the region and a boost to tourism. Derry-Londonderry is a confident, vibrant, forward-looking city and district that provides the best of all worlds, offering city, coastal and countryside experiences."
"When you look at the locations and names of the hotels featured on this list, it is a great statement of confidence in the City's hotel offering and an endorsement of the commitment and effort by everyone involved. This award shines a spotlight on the North West's premium hospitality industry. It is a reflection of our staff's enthusiasm, dedication, and commitment to excellent customer service. In my opinion, they are simply the best and that's why Bishop's Gate has been recognised by the TripAdvisor Travellers' Choice Awards four years in a row! We believe in delivering a genuine welcome to all of our guests and we aim to ensure every visit is special, so it is extremely encouraging to have this recognised and reflected in visitor feedback."
Bishop's Gate has won a host of other local awards since it officially opened in 2016. Last year, at the Northern Ireland Tourism Awards, the hotel won the prestigious 'NI's Best Hotel Stay' category which is a real indication of the premium standard visitors can expect. Ciaran added: "The Bishop's Gate team strive to exceed expectations and I'm very proud of them and the customer experience they create. 2020 has been a challenging year for everyone in the hospitality sector. I am delighted to report that the month of July has allowed Bishop's Gate Hotel to get back to business and to welcome those who are staycationing at home. We have embraced the challenges and we have worked tirelessly to ensure that we have a safe environment for our employees and guests, while still maintaining the Bishop's Gate magic that we are renowned for."
Bishop's Gate is listed in the 45th Anniversary Edition of prestigious Ireland's Blue Book, a guide to an impeccable collection of 56 country house hotels, manor houses, castles and restaurants located throughout the island of Ireland. Meanwhile, the hotel scooped one of the main accolades in the UK hospitality sector, when it was named as AA Hotel of the Year (Northern Ireland) 2018-19. The hotel also featured in The Irish Times – '100 Best Places to Stay in Ireland', and it was voted 'Hideaway of the Year' in a Georgina Campbell hospitality guide.
Built in 1899, Bishop's Gate Hotel blends stunning Edwardian architecture, stylish appointments and luxurious facilities which have been sensitively restored to pay homage to the rich heritage of the building, whilst exceeding the contemporary needs and desires of its guests.