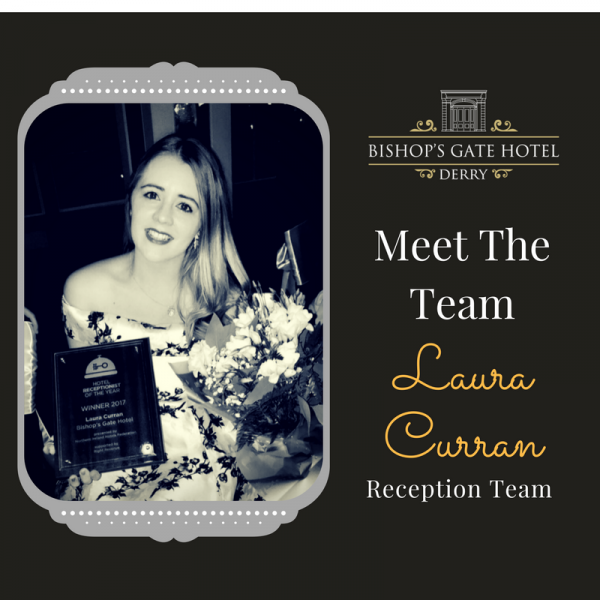 Name:
Laura Curran
Role:
Front of House/Receptionist
How long have you worked in the hotel:
I started working with the Bishops Gate Hotel Team in April 2016, just shortly after they opened their doors.
What is your role at Bishops Gate Hotel:
As a receptionist I am usually the first and last contact our guests will make with the hotel. When they call the hotel to make a booking it is my role to find out as much about the guest in a nonintrusive manner. This can include their preferences for their stay, requests and any special occasions. This is vital in my role as it ensures that from the first point of contact I can ensure that their journey starts off as a positive and personalised one. It is important to ensure each guest has a unique stay and knows how valued they really are as a guest of Bishops Gate Hotel.
Bishops Gate is a smaller hotel which I love as it allows me more time to spend with my guests, getting to know them, hearing their stories, be it of their travels, their home, their family or even of our very own city. I am also involved in checking guests in and out and providing information about the hotel and the city from landmarks & sightseeing to the vast array of restaurants, museums and shopping. I am very lucky to have the best city to promote and I hope our guests really see and feel my passion for Derry and for my role here at Bishop's Gate Hotel .
Favourite Memory Of Bishops Gate Hotel so far:
Back in September 2016 the First Guinness Club of Norway visited our hotel. While checking in the group I noticed a very worried looking member of the group toward the back of the foyer. Once the guests started making their way up to their rooms I made my way over to the guest to see if everything was ok. This guest had lost his phone on his travels which was his only contact to back home and he had taken all his photos with it from their journey through Ireland. He was understandably quite upset. I worked out this was an iPhone he had lost and after taking some personal information from him that he trusted me with and taking my time as to not cause any miscommunication due to the language barrier, I was able to eventually get into his settings online and track the phone to the Glenshane Pass where the bus he travelled down on was. I contacted the bus company who said they would drop it down to the gentleman the following morning.
I told the guest who was relived and very appreciative and thankful. The gentleman bought me a bouquet of flowers and presented them to me with the group the following morning (Laura is shown in the image below with members of the 1st Guinness Club Of Norway).
This was such a normal task for a receptionist in my eyes, but it shows even the smallest attention to detail and being able to read your guests is so important in making a guest stay a memorable one. This is definitely one of my many favourite memories.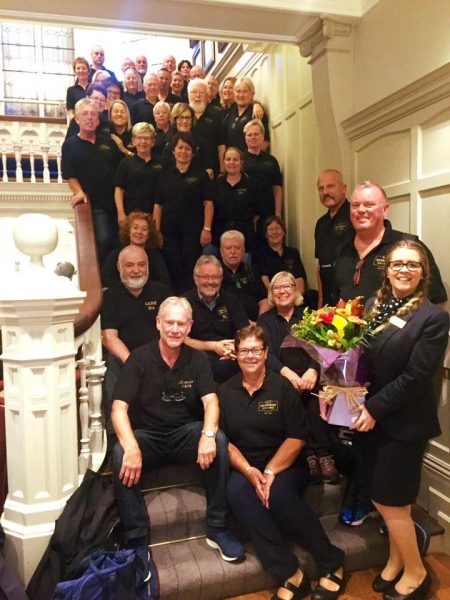 Favourite Food Or Drink Item From The Wig & Gown
This is the hardest question I get asked. I love trying different dishes each time and I find it very hard to find something I would change about any of them, as biased as that sounds. I do love the duck dish we have on our menu. I cannot fault this dish, from presentation and quality to portion size. You can tell every single part of the dish is thought out and executed to perfection. As I always say to guests, The Gown Restaurant is not a standard hotel restaurant you would come across. It could easily, and does easily, stand strong on its own merit.
Advice for new visitors to the city:
Get to know the locals! Derry is such a friendly city and I get reminded of this at least once a day when guests come into the hotel and tell us of the experiences they have had. From Taxi and Bus Drivers, Waiters and Waitresses, pub workers and pub goers. We are, definitely, a friendly bunch and we love nothing more than boasting about our beautiful city if given the chance. Give us that chance & you will not be disappointed.