Pro's Prep for Bishop's Gate Hotel Walled City of Derry Pro Am Tournament
The largest event in this year's PGA calendar, the Bishop's Gate Hotel Walled City of Derry Pro Am tournament, will take place on 25 and 26 August 2018. 52 teams and a total of 208 golfers will descend on the City to take part in the tournament.
Launching the Bishop's Gate Hotel Walled City Pro Am golf tournament, defending champion Michael McGeady, who cruised to a five shot victory in last year's tournament, said:
"This tournament promotes the extremely strong offering that the North West region provides in terms of golf tourism. It brings together a broad range of golfers and golf enthusiasts.
With City of Derry Golf Club and Foyle International Golf Centre coming together to host events, a larger number of competitors can be facilitated and it also enhances the region's reputation as a central hub for golfers. Participants can sample the city's parkland golf, enjoy premier golf and take in some of the excellent hospitality that the City has to offer."
Bishop's Gate Hotel in partnership with Derry City and Strabane District Council are sponsoring the tournament which is a top attraction in this summer's sporting calendar. The showcase of local and international talent will attract spectators and benefit the wider economy.
The North West region is becoming a golfing hub. Ballyliffin in County Donegal will host the Irish Open for the first time in 2018 while Royal Portrush will host the 148th Open in 2019.
Michael McCumiskey, secretary of the PGA in Ireland, adds: "This event will attract the top Irish PGA Professionals from all over Ireland. They will be competing against each other for the title and guaranteed prize pot of 15,000 euros whilst teams of three amateurs will compete alongside the professional for the coveted team prize. The event will have both Ladies and Gents sections. On the Friday a junior event will take place, kindly supported by Irish PGA professionals. Budding golfers will undoubtedly be keen to see PGA professionals play."
Title sponsor Ciaran O'Neill, Managing Director, Bishop's Gate Hotel explains the importance of the event:
"Building on the success of last year's event, we are keen to attract premium sporting events such as the Walled City of Derry Pro Am tournament. This year I am delighted to be the title sponsor with support from Visit Derry, Total Golf, Nuprint, Partridge Peartree, Citroën JC Halliday & Sons and Mintbet, all of whom have been instrumental in attracting Irish PGA professionals back to the City. This tournament will showcase local and international talent, while making a significant contribution to the local economy.
"We are also delighted to inspire budding young golfers as part of the wider community outreach programme. On Friday 24 August, from 2pm Foyle Golf Academy will welcome the stars of the next generation. Run by PGA Professionals, Foyle Golf Academy welcomes young people aged 6 to 14. Whether you're brand new to golf or want to perfect your technique, your game will benefit from professional advice".
Registration for the Junior Fun Golf Day is essential as places are limited. Please call T. 028 7135 3366 to book.
For further information please contact City of Derry Golf Club on 028 7131 1496 or Foyle International Golf Centre on 028 7135 2222.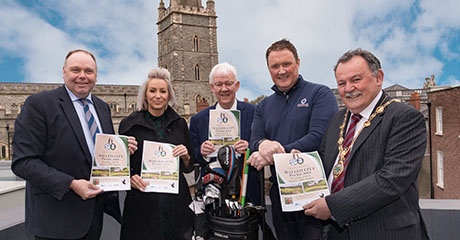 Title Sponsor Ciaran O'Neill, Managing Director, Bishop's Gate Hotel; Aoife McHale, Business and Leisure Tourism Officer, Visit Derry; Michael McCumiskey, Secretary of the PGA in Ireland; Professional Golfer and defending champion Michael McGeady and Councillor Maolíosa Mc Hugh, Mayor of Derry City and Strabane District Council.