The award winning Bishop's Gate Hotel which was recently unveiled by Tripadvisor as Number 2 in the top 25 UK Hotels is celebrating its first birthday this week.
Within the hotel's first year of trading it has exceeded both occupancy and business targets. Ciaran O'Neill,Managing Director of Bishop's Gate and President of the Northern Ireland Hotels Federation discusses the initial projections and how these have been surpassed:
"At Bishop's Gate, delivering the best accommodation, food and service is our priority and we work tirelessly to provide experiences that exceed expectations whilst positioning ourselves as one of Northern Ireland's leading destinations. This approach has paid off. Within our first year, we have exceeded the occupancy levels projected in our business plan and we are currently employing almost twice the number of people that we anticipated. We set out to create 48 jobs and we've created 76.
In the month of March, as we celebrate our first year of trading, we will have welcomed over 12,000 visitors. Our amazing team is committed to excellence and this is reflected in the comments and feedback we receive. Visitors have described the food experience as 'a fantastic eatery' while the sensitively restored, exuberant Edwardian surroundings have regularly been termed a 'fantastic overnight luxury stop'."

Bishop's Gate Hotel ranked second in TripAdvisor's UK top 25 rated hotels in the annual Travellers' Choice awards just weeks before celebrating its first birthday.
The hotel has also won a host of other local awards since it officially opened. Stephanie McCarron won 'Hotel Receptionist of the Year – Most Promising Hotel Category' at the NIHF Hotel Receptionist of the Year Awards 2016.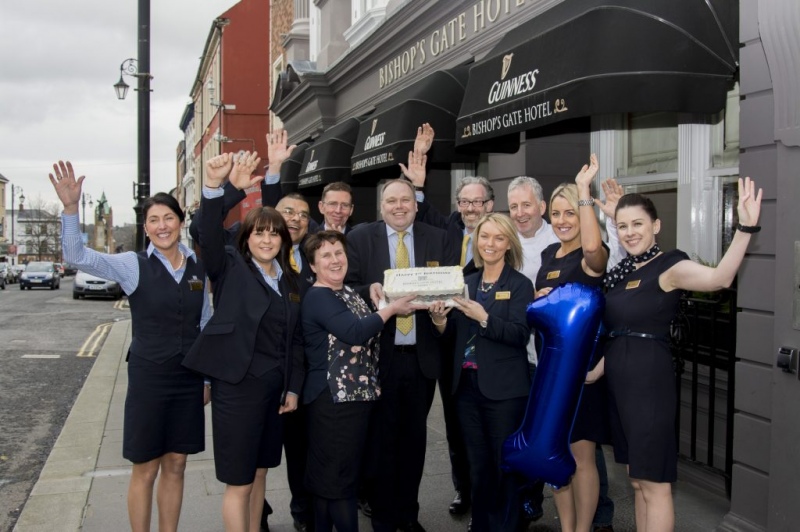 To celebrate our 1st Birthday and to brighten your day our staff have created a short video for you to enjoy.