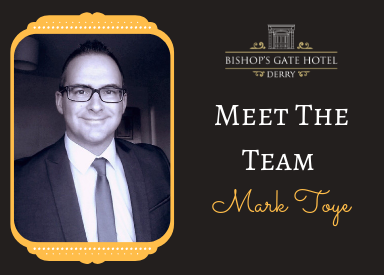 Meet The Team
Name: Mark Toye
Role: General Manager
How Long Have You Worked in Bishops Gate Hotel?
I started on the 4th September 2017 - so that would make it over a year
What is your role at Bishops Gate Hotel:
The role of the General Manger is an extensive one, but I would summarise by saying that my role is to provide a safe and secure environment where employees are trained and developed, quality and standards are maintained, and all the staff are focused on making lasting memories for our guests. This is all in conjunction with making a profitable and sustainable business for our owner of course.
Favourite Memory of Bishops Gate Hotel so far:
A memory that stands out is that on the first week of working here a friend of mine had her wedding here. It was a truly amazing event and it was so nice to be involved in her special day.
What makes Bishops Gate Hotel Special?
Bishops Gate certainly ticks a lot of boxes. It has its amazing history, the outstanding Edwardian building itself, the delicious menus and cocktails, the hidden well and all the awards and achievements that it has won. The thing that ties this altogether is undoubtedly the wonderful staff that work here. They give the most sincere and genuine service to all our guests that is not only professional but done with our unique Derry friendliness. If you happen to read TripAdvisor our reviews time and time again would all comment on this.
Favourite Food or Drink Item from The Wig & Gown:
I try to eat as healthy as possible and will nine times out of ten choose fish. The Daily Special on offer in The Wig is great value at £8.50 and often is a Chef inspired fish dish. It is pan seared with greens, puree and a choice of side order. It is one of my favourites and I would have this with maybe a nice glass of Shiraz, followed by espresso.
Do you have any advice for new visitors to the city for things to see & do?
Derry is a compact city and easily walkable. I would take time to stroll around the city and just soak up its atmosphere. The people are extremely friendly and will always take time to chat.
The one place in the local area that visitors should see is :
A must is the award-winning Walled City Tour set up by Martin Mc Crossan. It really gives a 1-hour snapshot of the history of the City. It is delivered in an unbiased way that's easily absorbed and the bonus is you get to walk our famous City Walls.
Best part of your job:
Meeting our guests. I absolutely love a busy summer season and think it's amazing that so many different nationalities choose to visit our city and choose Bishops Gate as their hotel of choice. I love walking around the hotel listening to all the different accents and try to assist (using my limited language skills)
Do you have any hidden talents / interesting facts about yourself to share?
One of the perks of working in this industry is that you never know who you may meet from top business leaders, to government officials and even the odd Hollywood A-Lister thrown in. I have met quite a lot of them over my time and have to say that Sarah Jessica Parker and her husband Matthew Broderick were my favourite. So down to earth and genuine.
What do you enjoy doing when you're not working?
I like to unwind by going to the gym twice a week and squeeze in some yoga if I have time. I also really enjoy travelling and have visited many, many countries although there are still some places that I would like to visit like Japan, Peru and Cuba. They are all next on the list.
There is a famous quote that reads - If the World is a Book – Those who do not travel read only one page. (St. Augustine)
What are you most looking forward to in the coming year?
Running a hotel has its challenges and no two years are the same. I would like to maintain the forward momentum that Bishops Gate has achieved and keep pushing for quality and consistency. I look forward to help in making Bishops Gate Hotel one of the city's most iconic hotels.