Void Engage events as part of Re_sett_ing_s by Locky Morris & Jaki Irvine
Void Engage is alearning and outreach programme, which places participation and engagement at the heart of Void, making contemporary visual art accessible to visitors of all ages.
Event Plans 4 March - 3 June 2023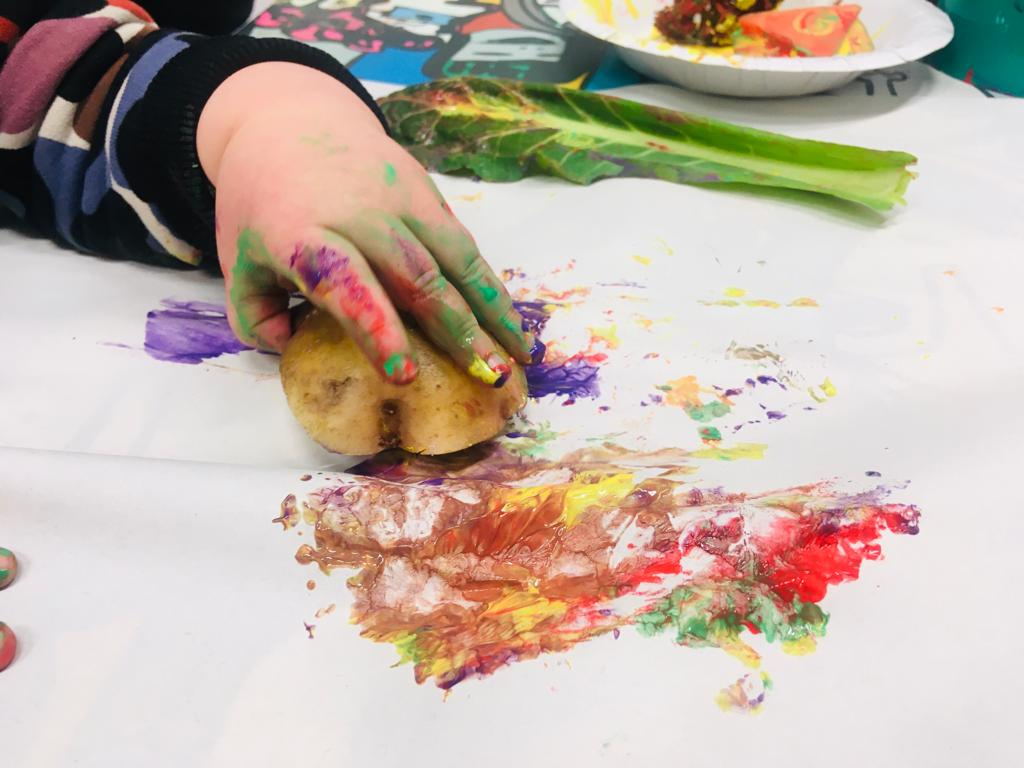 Void Tots
Void Tots are relaxed and fun messy play sessions with artist Sinead Crumlish for children aged 1-3 years old.
Upcoming sessions include:
Saturday 22 April 9:30-10:15am & 10:30-11:15am
Friday 19 May 9:30-10:15am & 10:30-11:15am
As part of NI Mental Health Arts Festival
Book a spot by visiting our website at www.derryvoid.com to come along and get messy with your little ones! For the current exhibition (4 March-3 June), VOID will be running our two Tots sessions from the slightly earlier time of 9:30-10:15am and 10:30-11:15am;
* Please note that, due to space restrictions, one parent per child is advised & ask that the attending parent please ensure both adult and child are wearing old clothes! We provide large shirts for parents to put over their clothes and we also have a large bathroom with changing facilities if you need to change clothes for baby and parent afterwards. Book via website www.derryvoid.com.
Void Children & Families
Void offers a range of activities inspired by our exhibitions for all the family to enjoy.
Drawing booklets
Drawing booklets offer an opportunity to explore Locky Morris and Jaki Irvine's exhibition in a fun and experimental way during your visit to the gallery. They encourage the user to think about the artworks on a deeper level as they self-direct around the gallery, while completing a variety of different drawing exercises inspired by the exhibition. These booklets are free, suitable for all ages, and available at the front desk throughout the whole duration of the exhibition. Please note, younger children may need help from a parent when reading the drawing prompts but will still be able to engage in this activity.
The Curiosity Club
The Curiosity Club is a self-directed creative space in Void Gallery which is filled with various materials, activity prompts and mediums, inspired by our current exhibition, seasonal holidays and public programming for all ages to use freely, experiment with, and enjoy. It is open at various points throughout our exhibitions. The Curiosity Club is open for families to call in and use from 12-4pm on the following dates throughout Locky Morris and Jaki Irvine's exhibition:
Thursday 16 & Friday 17 March (St Patrick's Day themed)
Activities include: leprechaun mask making, pot of gold hanging mobiles, giant rainbows and make your own leprechaun lookers.
Saturday 1 April (Krunal Gohil inspired)
Activity: Respond to Krunal Gohil's exhibition through collaborative scroll drawing.
Thursday 6 & Friday 7 April (Easter themed)
Activities include: DIY Easter egg basket making, hatching Easter chick hanging mobiles, Easter Bunny mask making and pebble painting.
No need for booking, just pop along to Void at 10 Waterloo Place, Derry, BT48 6BU.
Stay tuned to social media @derryvoid on Instagram, Facebook and Twitter for details of what's in store for each session closer to each date.
Void Explorers
Void Explorers is a programme of bookable workshops in Void Gallery aimed at children and young people aged 4-14 years old. Children's Animation Workshops with Grace Fairley Children aged 4-8 and young people 9-14, join Grace Fairley, this April, to explore the process of animation!
Saturday 22 April 2-4pm (aimed at ages 4-8 years old)
To celebrate Earth Day we will be making stop-motion animations of nature inspired characters. Create the craziest flower, the tallest tree, or the longest worm and then bring them to life through the basics of stop motion animation!
Saturday 29 April 2-4:30pm (aimed at ages 9-14 years old) During this workshop, we will be learning 2-D animation! Using Void's current exhibition Re_sett_ing_s to gain inspiration, we will create a short 2-D animation by using the digital illustration app, Procreate!
Grace Fairley is a Belfast based illustrator with a passion for everything weird, wonderful, and colourful. Booking can be made via our website at www.derryvoid.com.
Void Visionaries
Void Visionaries is a youth arts programme developed by and for young people aged 15-20 years old at Void Gallery. Through the programme, members have the opportunity to meet like-minded individuals, engage in skill and process-based workshops with local artists and creatives to create artwork in response to Void's diverse exhibition programme, attend creative career and artist talks, exhibition tours and studio visits, and plan, host and take part in their our group exhibitions and events. Void Visionaries is a free, voluntary and on-going programme which is always open to new members.
Public Programme Chai & Chat
We want Derry's growing multicultural communities to be reflected in our social spaces. So Void Gallery are currently debuting a new programme called Chai and Chat, in which we will serve Chai (tea) and encourage people to use the gallery as a social meeting space. An programme inspired by the Derry City and Strabane District Council's Welcome Spaces initiative. "Arriving in Derry for the first time towards the end of 2022, invited an opportunity for me to get to know the local community, but I didn't really know where to start. In my first few weeks in Derry, I listened for various accents and languages and realised how diverse the city was, all intermingled. Drinking tea with someone and learning another man's language are two things that have always helped us break down barriers in society. Nelson Mandela said: "If you communicate to a man in a language he understands, that goes to his head, when you speak to him in his own language, it touches his heart". The cold weather fuelled a desire for warmth and connection. Since I didn't feel comfortable going to pubs alone, I looked for sites where people from various walks of life might meet, but I couldn't really locate any. Chai, which is a name for tea in numerous languages, is made in the Indian subcontinent by blending milk with spiced black tea. It is a staple in my family; and the first thing my mother serves me when I walk in, Chai, is one of the most poignant markers of my Pakistani ancestry. As a sign of hospitality, it creates sentiments of kinship, ties people to their humanity, and brings comfort. With these considerations in mind, I'd like to invite people to join me for chai at the Void Gallery at various points throughout the year." - Sara Bint Moneer Khan, Head of Public Programmes at Void.
Thursday 23 March 6:30-8:30pm Thursday 25 May - time tbc Book via our website www.derryvoid.com - or just drop in.
Print + Protein with Aphra Hill Friday 14th April 6-7:30pm
Print + Protein is a peer-led philosophy reading group organised by Aphra Hill responding to the Void Gallery programme, using diverse theory to expand alternative understandings of contemporary art. It takes its name from Virtual Bodies and Flickering Signifiers by Katherine Hayles which explores immaterial media and the affinity between books and bodies. For its first edition, the group will discuss the essay The Intertwining by phenomenological philosopher Maurice Merleau-Ponty, selected to refract the collaborative exhibition Re_sett_ing_s by Locky Morris and Jaki Irvine running at Void Gallery from 4 March - 3 June 2023. The text considers sentient experience in relation with objective existence as a system of mutual expression. Attendees will have the opportunity to read the text in advance, with readings also taking place on the day. The event takes place on Friday 14 April 2023, 6pm-7.30pm, is free and open to the public but advance booking is required. Aphra Hill is a writer, researcher and recent graduate of Visual Culture at NCAD. Max 16 people. Book via our website www.derryvoid.com.
Silver Tongued Deviance
Silver Tongued Deviance is an open mic platform event hosted by spoken word artist Frank Rafferty at Void Gallery in partnership with Gasyard Development Trust (Bluebell Arts). During these sessions, spoken word performers/singers/(acoustic) musicians are invited to come along and perform; they may choose any pieces of work from their repertoire, they can create something new which connects to themes in Void's current exhibition, or they can perform something else entirely which simply resonates with them. The viewing public are invited to simply attend and enjoy! There is no requirement to perform at these events. Refreshments are also provided; visitors are invited to enjoy a glass of wine, a beer, or some tea or coffee. Void is wheelchair accessible.
Upcoming Silver Tongued Deviance session dates are as follows: Thursday 30 March 6:45pm Thursday 11 May 6:45pm As part of NI Mental Health Arts Festival
RSVP via our website at www.derryvoid.com Silver Tongued Deviance is a collaboration with Gasyard Development Trust (Bluebell Arts). Life drawing with Cara Donaghey and Mel Bradley Join artist Cara Donaghey and model Mel Bradley for an exploratory life drawing session using Re_sett_ing_s as a backdrop. No prior experience required - just come along and give it a try! Thursday 13 April, 7-8:30pm All materials will be provided. Booking can be made via our website at www.derryvoid.com. £3 to secure space.
Explorative Drawing : Creating an Image Discover and create your own layered images with our Learning & Outreach Officer and artist, Zoë McSparron, by responding to aspects in Void's current exhibition, Re_sett_ing_s by Jaki Irvine and Locky Morris, through various different explorative drawing and composition techniques before coming together as a group to create a collaborative artwork.
Thursday 18 May, 6-7:30pm All materials will be provided. Booking can be made via our website at www.derryvoid.com. £3 to secure space
'My' Re_sett_ing_s photography and video challenge
Grab your camera or phone and explore your surrounding environment! In response to Void's current exhibition, Re_sett_ing_s, by Jaki Irvine and Locky Morris, we would like to challenge you, as the public, to experiment with Jaki and Locky's casual yet confronting photographic and film process and style, within your own contexts. All you have to do is get outside, explore, photograph/film your own surrounding environment and upload it to social media using the hashtag #My_Re_sett_ing_s At the end of the exhibition, a prize winner for the best photograph or video will be selected.
Celtronic
Saturday 08 April 2-5pm As part of Celtronic festival, Void presents The Fully Automatic Model. Visitors are invited to listen to this performance by The Fully Automatic Model in response to Re_sett_ing_s. Book via our website www.derryvoid.com.
The Fully Automatic Model Biography Based in Derry, Ireland, electronic music composer and performer The Fully Automatic Model is widely known for his fascination of sculpting sound via modular synths, tape machines, DIY instruments and feedback / distortion circuits. Visually, TFAM has been experimenting with cutting edge technology and Generative Art for years, to create a truly unique visual toolkit that takes his live performance into a full audio visual experience like no other.
Finissage event: Live performance by Autumns Saturday 3 June, 6pm
Visitors are invited to listen to this performance by Autumns in response to Re_sett_ing_s. Autumns Biography Autumns is an outlet for electronic post-punk, fused with elements of dub and sound experimentation. The project showcases a love of whip-cracked rhythms, heavily effected vocals and no-wave guitars, processed through dub techniques within the mixing desk. An obsession with freak sounds leads to a high-intensity live show, using minimal equipment for maximum results. Book via our website www.derryvoid.com.
Yoga
Make-space by Megan hosts a weekly yoga class in Void every Wednesday evening from 5:30-6:30pm. These are open-level classes where you will be encouraged to slow down, focus on embodied movement and connection to self. To sign up for a four week block or a drop-in session, please email mmckeever89@gmail.com.